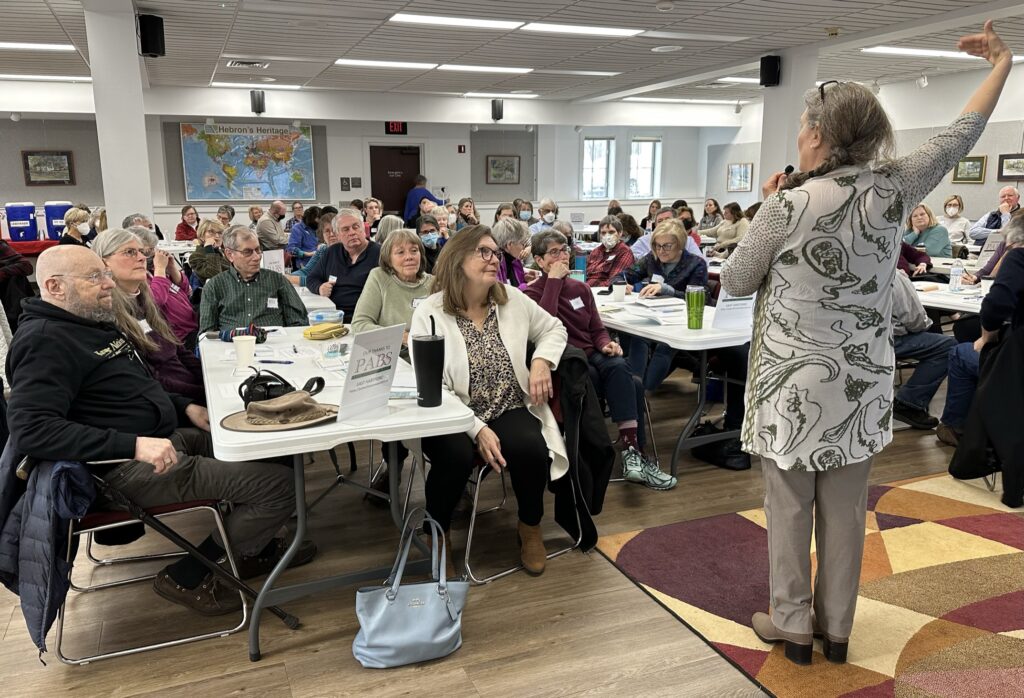 What an amazing day we had! Our sold-out event with Debby Irving on Saturday, March 11th exceeded our expectations. We appreciate everyone who joined us for an eye-opening and enlightening day of learning and connecting with others who care about racial justice, human rights and creating communities that are diverse, inclusive, and welcoming to all. The 100 participants came from Hebron, Andover, Marlborough, and Columbia – and all across central and eastern CT. They ranged in age from their 20s to their 90s.
The Community Room at Douglas Library of Hebron was filled with positive energy from the moment people walked in at 10am until they left at 3:45pm. Participants were honest, vulnerable, curious and open to learn.
82 percent of those who shared their opinion on the workshop rated it 'excellent,' with the remaining rating it 'very good.'
Some of the comments were:
·        It was so motivating to see so many people participate so freely, to voice their commitment to being anti-racist, and to share ideas for action.
·        Debby helped me think about some of my experiences and how they've influenced how I handle conflict and different conversations.
·       It was excellent! Debby Irving was a fabulous presenter. I'm so glad I attended.
·       It was great to be in the presence of 100 people who think this is important.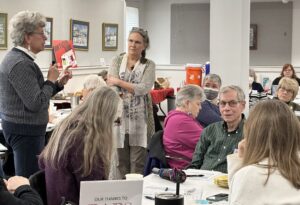 Much of the day was spent listening and sharing — and learning.
Many people and groups were key to making this event so successful. First, Debby Irving – for sharing her knowledge and her personal journey, for her flexibility, and her kindness. Douglas Library and Director Kevin Sullivan were the perfect partner and host. The location was perfect for the event – people felt comfortable, and there was plenty of space for enjoying refreshments, engaging with others, and listening to the speaker.
We also enjoyed a delicious and bountiful lunch from PABS African Restaurant in East Hartford and coffee from The Flour Girl in Hebron.
We owe a huge debt of gratitude to our funders – Hebron Greater Together Community Fund at the Hartford Foundation for Public Giving, Gilead Congregational Church, and individual donors for their generosity and trust in us.
And mostly, we appreciate everyone who participated! You are caring, open-minded and committed to making your communities more diverse and inclusive for your children and grandchildren, and for those who would love to live in such beautiful settings. We are buoyed by the level of commitment to racial and social justice here in Eastern CT!
For those who feel inspired to keep learning – here are just a few ways:
·       Start the 21-Day Racial Equity Habit Building Challenge© where you learn a little bit each day over 21 days. You choose what you will read, watch, listen to, connect with, reflect on, or explore.
·       If you haven't yet, read Waking Up White: And Finding Myself in the Story of Race. Or, check CoDE's book list.
·       Join, support or connect with CoDE (if you live in Hebron, Marlborough, Andover or Columbia) or a local group working on social justice. Here are a few who joined us at the event:
o   Granby Racial Reconciliation Group
o   Human Rights Commission, Mansfield
o   Truth in Action, Love and Kindness (TALK), Glastonbury
o   Windham/Willimantic Branch of NAACP