Honoring and learning about the first residents of the land of our communities
Long before the state of Connecticut was created and towns like Hebron, Marlborough, Andover and Columbia were 'founded,' diverse Indigenous communities called the land home. They raised families, worked the soil, traded goods with others, and established cultures rich in political, artistic, spiritual, and environmental legacies that continue today.
Despite war, enslavement, and prejudice, Native people have remained active agents in their own and state history. The state-recognized sovereign nations in Connecticut are the Golden Hill Paugussett, Mashantucket Pequot, Mohegan, Paucatuck Eastern Pequot, and Schaghticoke tribes, with the Mashantucket Pequot and Mohegan having federal recognition as well.
It is important to understand the histories and cultures of the Indigenous people who lived here before us and who thrive here today.
CoDE believes that acknowledging and honoring the first stewards and residents of the land on which our communities now exist is important. Land is sacred. It allows us as humans to live, thrive and connect with each other. It shapes our identity. Honoring the indigenous people who came before us is one step to understanding the true history of our communities (the towns did not begin the date they were incorporated) and the debt we owe to members of the First Nation. It is also a pathway to forging a deeper relationship with members and descendants of the tribes that first lived in the communities we now call home.
Hebron was formerly territory of Mohegan and Wangunk tribes.
Marlborough was formerly territory of the Wangunks.
Andover was formerly territory of Mohegans and Wangunks.
Columbia was formerly territory of the Mohegans.
If you live in another town, you can find the name of the tribes who lived there first, by visiting: https://native-land.ca/
CoDE suggests:
1. Reading a Land Acknowledgement Statement at the beginning of any event or gathering held in your community. It could be something like this:
We would like to begin by acknowledging that the land on which we gather is the territory of the ________________________ Peoples, who have stewarded this land throughout the generations. We thank them for their strength and resilience in protecting this land and aspire to uphold our responsibilities according to their example.
2. Learning and understanding the history, customs, culture, and contributions of the Indigenous People who first stewarded the land on which you live. This journey could begin by using the sources of information below.
3. Exploring how you can build a relationship with the members of and descendants of the peoples who lived on land you now call home.
"When we talk about land, land is part of who we are. It's a mixture of our blood, our past, our current, and our future. We carry our ancestors in us, and they're around us. As you all do." ─ Mary Lyons (Leech Lake Band of Ojibwe)
For more information about the Indigenous peoples and tribes that existed and still thrive in Eastern Connecticut:
https://www.mptn-nsn.gov/default.aspx
https://en.wikipedia.org/wiki/Wangunk
For more information about Land Acknowledgement:
https://nativegov.org/resources/a-guide-to-indigenous-land-acknowledgment/
Sources:
Trumbull, Benjamin 1818. A Complete History of Connecticut: Civil and Ecclesiastical, from the Emigration of Its First Planters, from England, in the Year 1630, to the Year 1764; and to the Close of the Indian Wars, Volume 1. Maltry, Goldsmith & Co. and Samuel Wadsworth: New Haven (archive.org)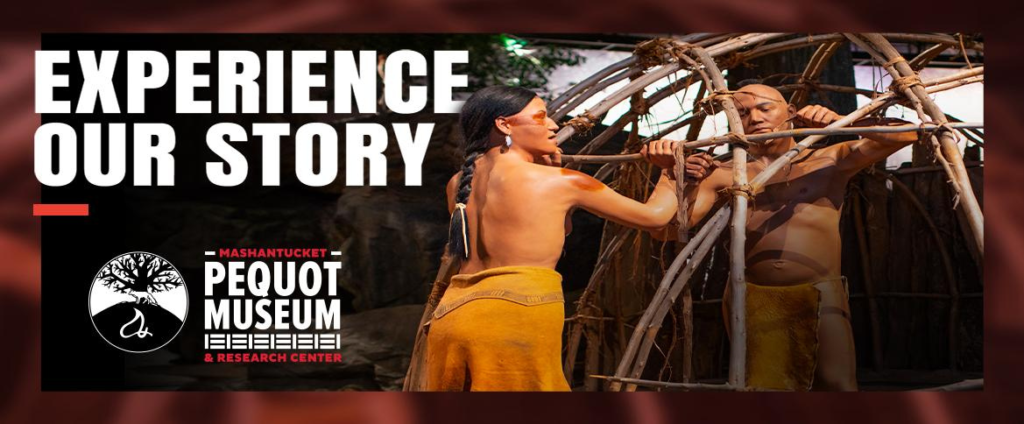 The Mashantucket Pequot Museum, which is tribally owned and operated, and located in Mashantucket, highlights the history and culture of the Mashantucket Pequot Nation, other Native Americans in the northeast, and the region's rich natural history. Programs and special event for individuals, families, and students are held throughout the year.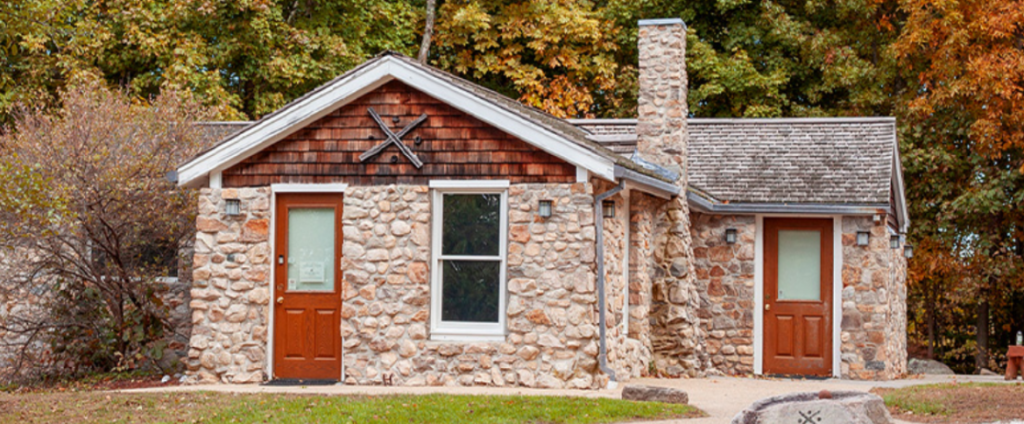 The Tantaquidgeon Museum, located in Uncasville, is the oldest Native-owned museum in the country.
This museum's mission is to share the Mohegan culture with the community and visitors that wish to experience and learn about the history of the Mohegan people from the Mohegan perspective.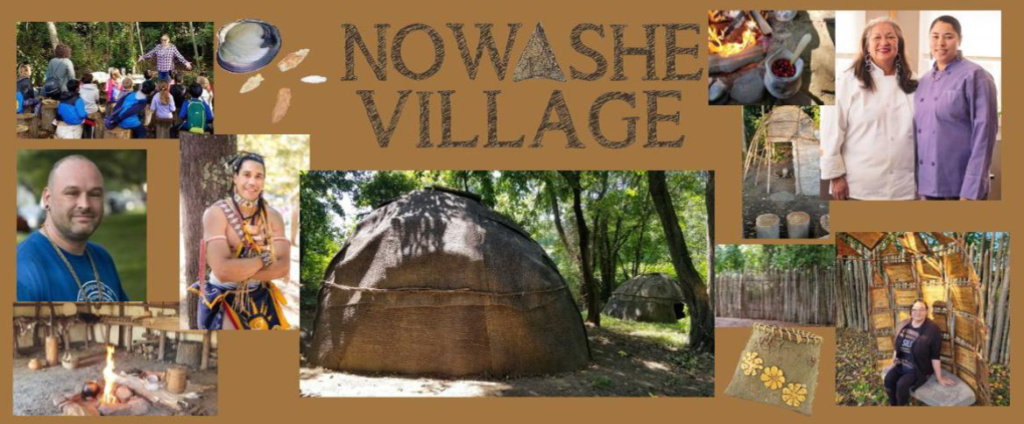 Nowashe Village, located in South Windsor, is an outdoor museum showcasing the history and way of life of local indigenous people, operated by the Friends of Wood Memorial Library & Museum.
Tours and special events are available throughout the year.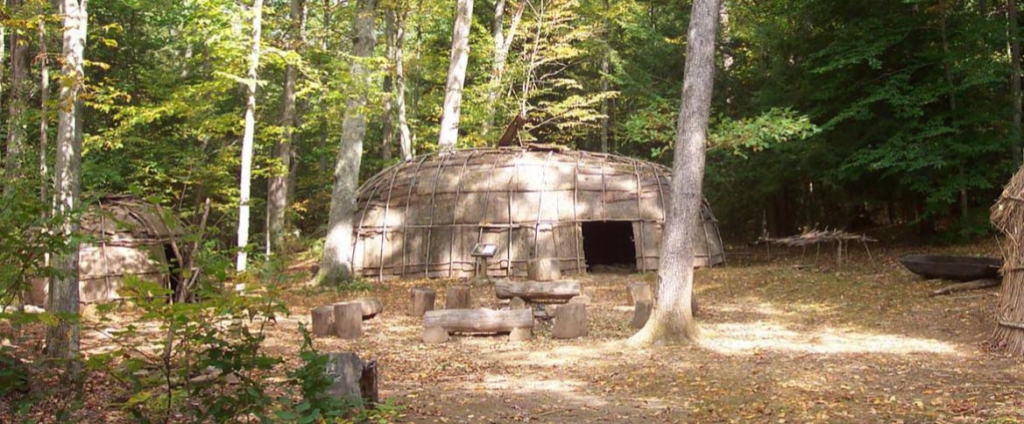 The Institute for American Indian Studies, located on 15 wooded acres in Washington, CT, is a museum, education, and research center. 
It features a replicated Algonkian village with a chief's longhouse, healing plants garden, nature trails, and the 10,000-year story of Connecticut's native population.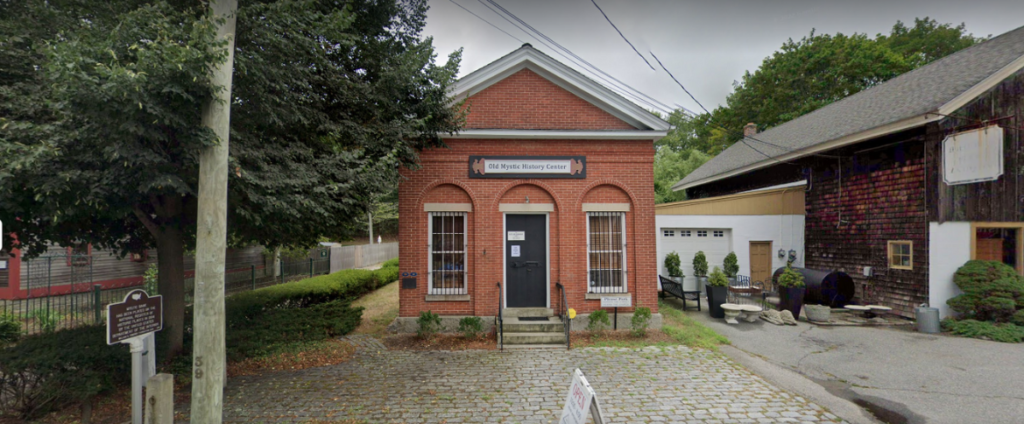 The Old Mystic History Center (formerly the Indian & Colonial Research Center), located in Mystic, is a museum, library, research center, and historical society, highlighting Native American and Colonial history back to the 1637 Pequot War and other Americana based on the collections of Eva Lutz Butler.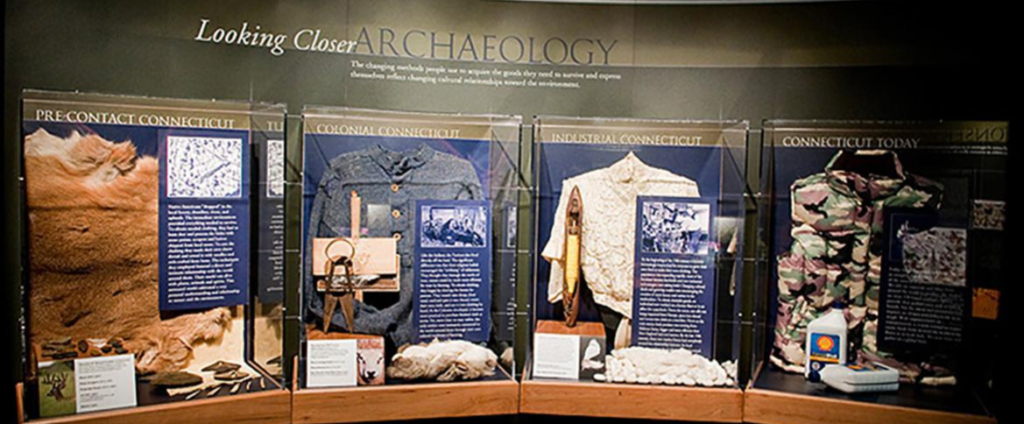 The Connecticut Archaeology Center, part of the CT Museum of Natural History located on UConn's Storrs campus, houses a variety of Native American collections. The Norris Bull Collection, for example, includes a 12-foot dugout canoe fashioned from an American Chestnut tree.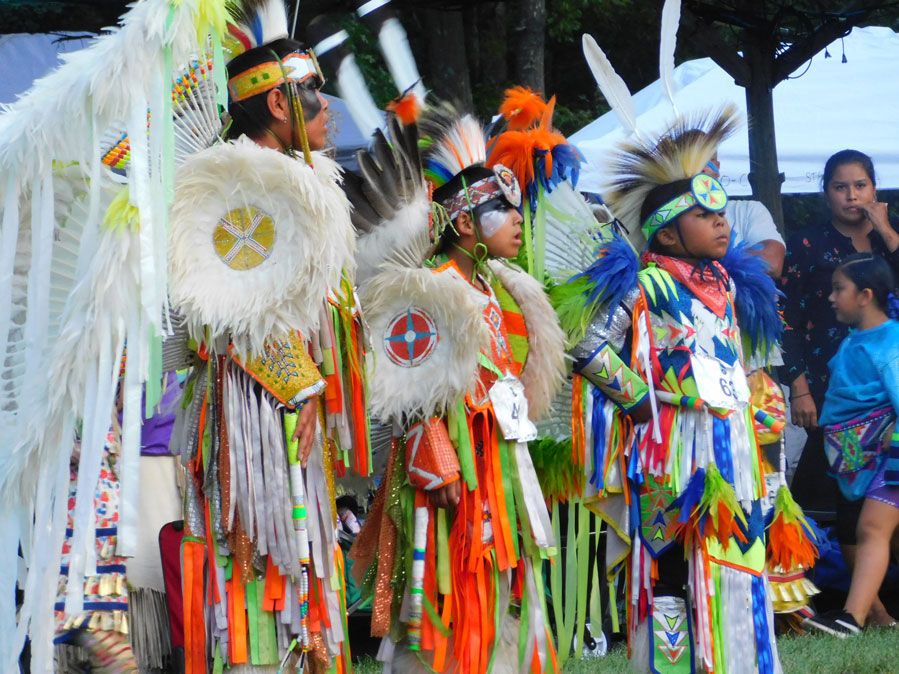 In addition to permanent exhibits, there are events throughout the year such as Pow Wows. The Mashantucket Pequot Tribal Nation hosts, Schemitzun: Feast of Green Corn and Dance, a two-day festival held at the Mashantucket Pequot Cultural Grounds in August.
This family-friendly celebration "ushers in the harvest season and give thanks to the Creator for our rich heritage while honoring our ancestors, warriors, veterans, and Elders." Schemitzun features traditional and contemporary tribal dance exhibitions, drum and live music, and Native American-made crafts.

A 17th century Eastern Woodland Village exhibit offers demonstrations of traditional Pequot cultural practices—including fire-pit cooking, wampum and fish net making, loom beadwork and basketry.
Native American cuisine prepared by New England Native chefs is available, including traditionally prepared chowders, local fish, wild game, and seasonal fruit beverages, as well as contemporary fare such as Indian tacos, burgers, fry bread, and unique desserts.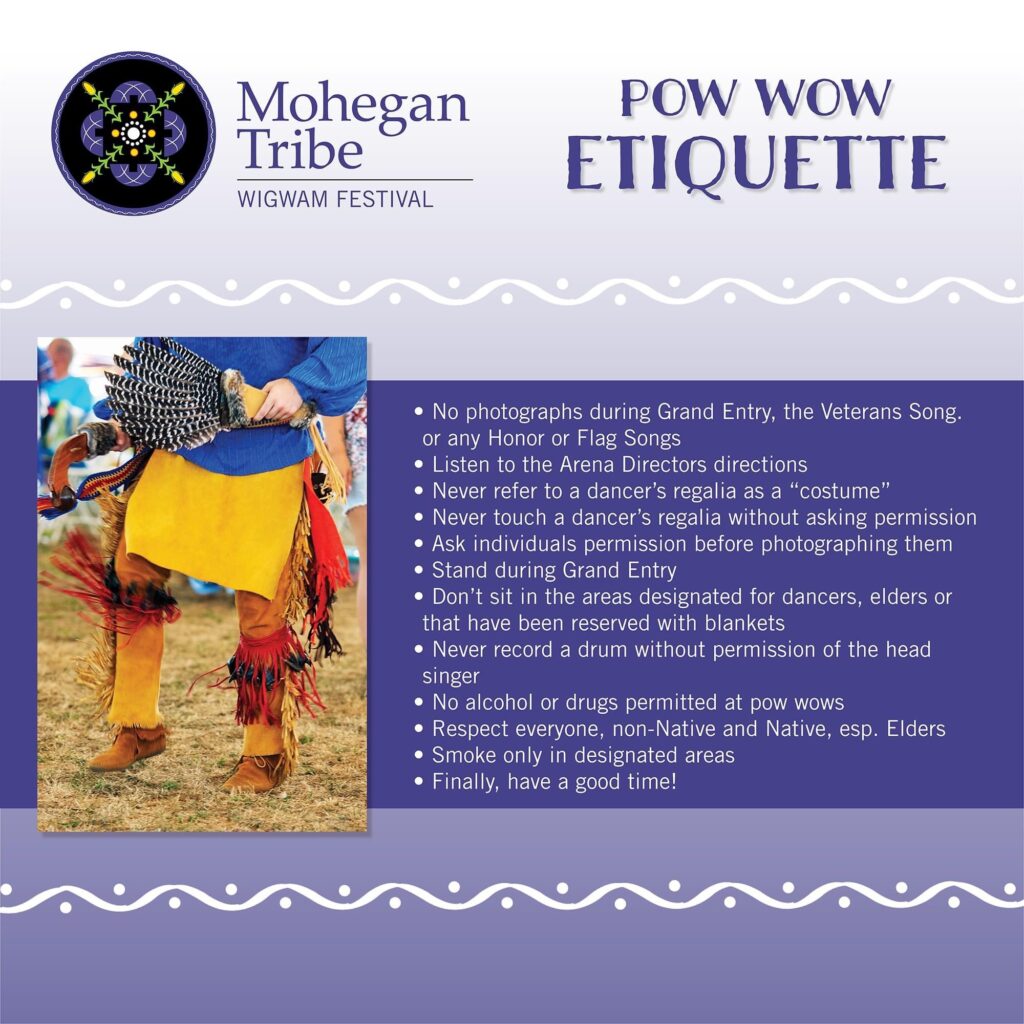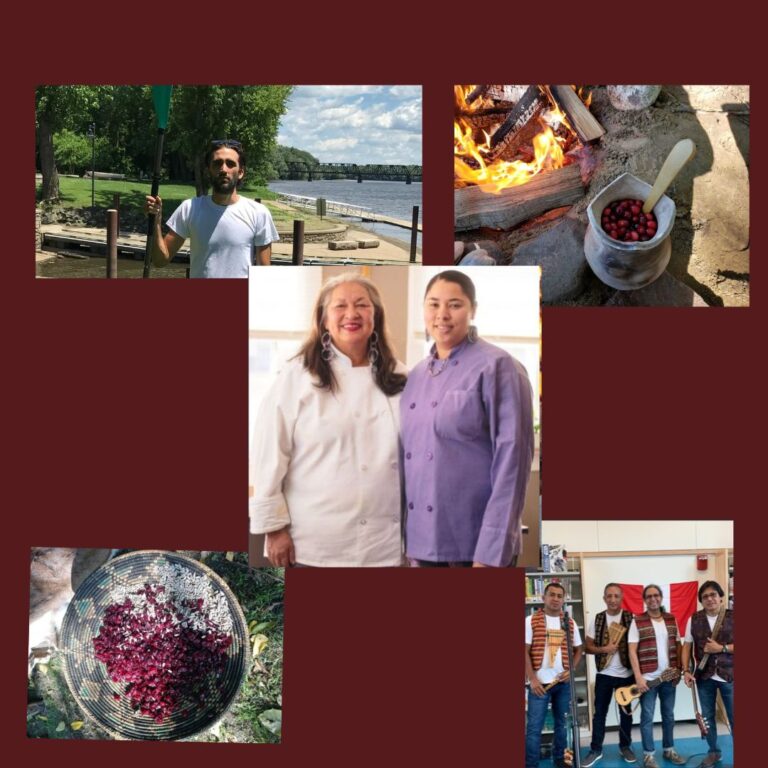 Nowashe Village hosts a day of family-friendly activities for Indigenous Peoples' Day each year. This year it will be held on October 9 from 11am – 4pm. 
The day will include:
Opening blessing by Clan Mother Shoran Piper (Golden Hill Paugussett)
Indigenous food demonstration by James Beard Award-winning Chef Sherry Pocknett (Mashpee Wampanoag), owner of Sly Fox Den II Restaurant (learn about Indigenous foods – their history and importance of eating locally sourced, in-season foods; samples of Journey Cakes and Cranberry Tea provided)
Musical performances by Sin Fronteras, a group of Indigenous musicians from South America who play traditional instruments, such as the flute and charango
Orchard Hill Foreign Language teacher Marisa Lewis, will discuss the Indigenous cultures of Peru with objects and artifacts for visitors to explore.
Canoe trips on the CT River in South Windsor with outdoors guide Jack Albano (learn about the CT River's vital role in Indigenous life yesterday and today)
Other educators, food, and Indigenous wares including wampum jewelry, available for purchase.
For more info: http://nowashe.org/events/indigenous-peoples-day-3/