Saturday, June 17, 2023
10:30am - 2:30pm
Peters House, 150 East Street, Hebron, CT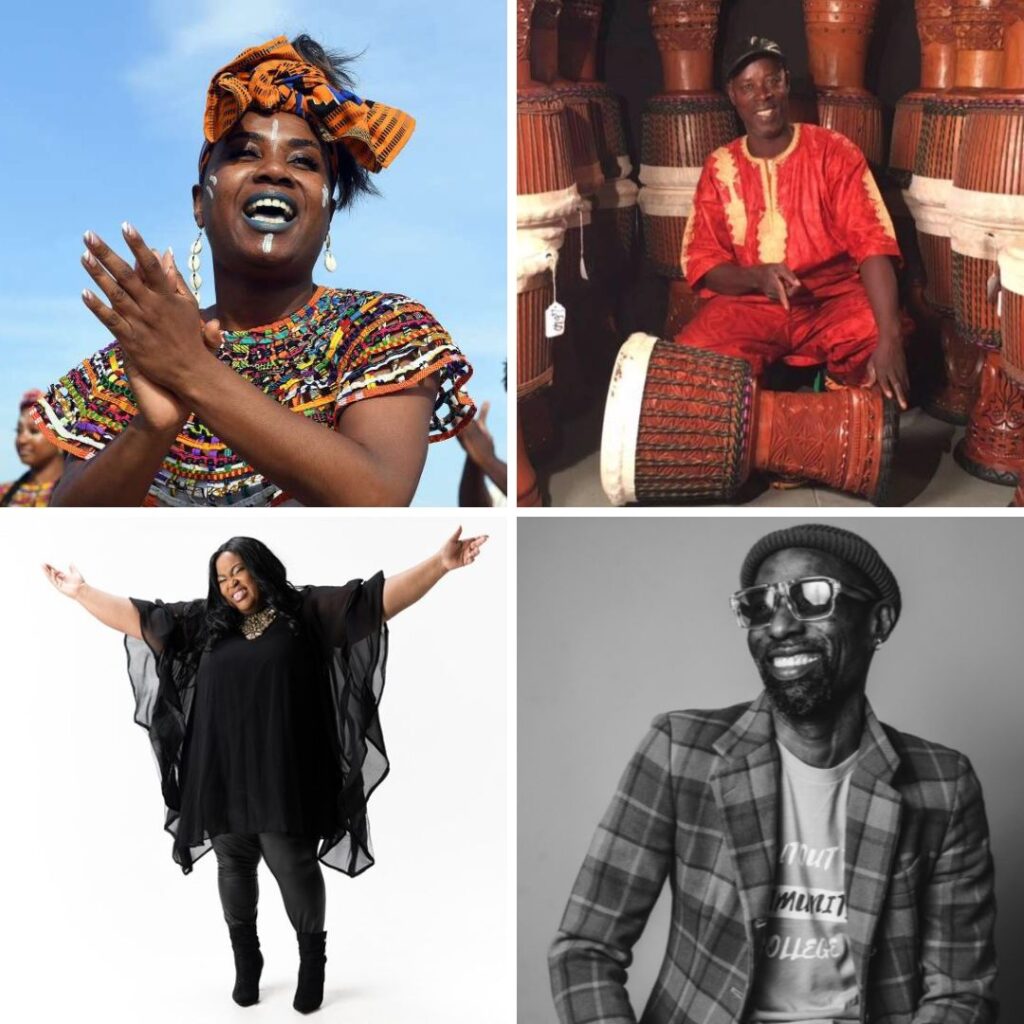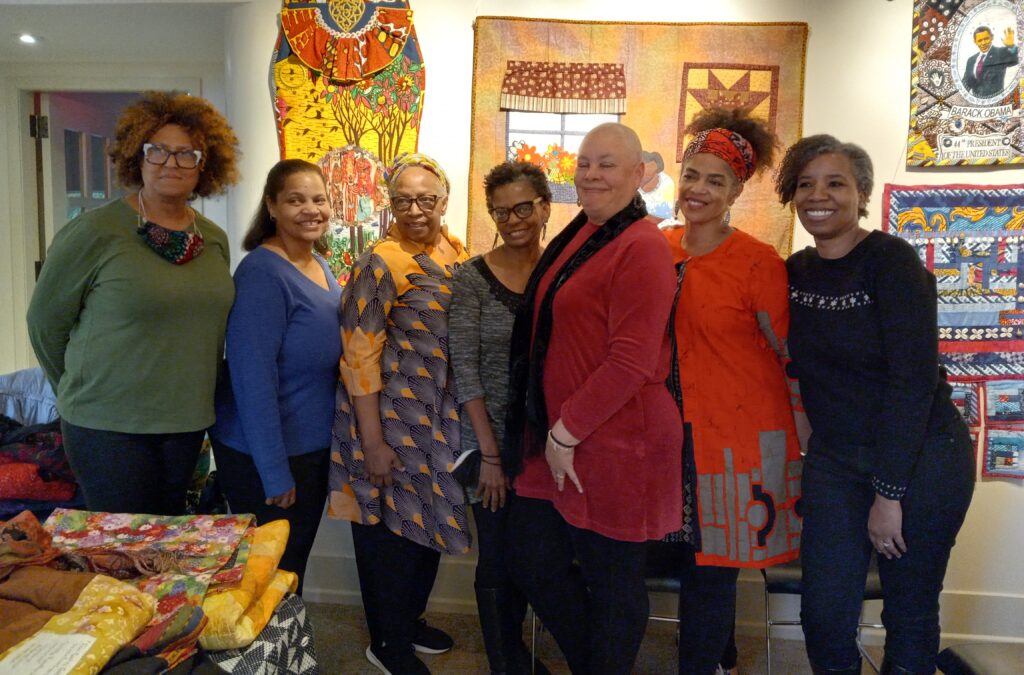 CoDE's second annual Juneteenth Celebration will once again be held in collaboration with the town's Hebron Day, hosted by the Parks and Recreation Department.
Come and join us as we celebrate Black culture, learn about the history of African Americans and the meaning of Juneteenth, and connect with others who are working to make sure that in our communities there is true justice and freedom for all Black Americans. 
Building on last year's tremendous success, which had approximately 650 attendees from across the state (primarily eastern CT), this year's event will feature uplifting musical, drum and dance performances, games and activities for children, and a variety of educational activities. 
Entertainment:
We're excited to welcome world renowned master drummer Bolokada Conde to Hebron and our Juneteenth Celebration! Other new performers include the 15-member ensemble Lisa Clayton Singers and the incredibly powerful poet (and Hartford Poet Laureate) Frederick-Douglass Knowles. And we will welcome back the dancing and drumming sensation that is EvaE Peart & Nia Arts, and hope that everyone will join in. And sure to get your heart pounding and feet tapping will be the students from Hartford's Proud Drill, Drum and Dance Corp.
We will also welcome Sisters in Stitches – Joined by the Cloth, a quilting guild celebrating culture, color, design, and tradition through an African American perspective. They will share their beautiful quilts, stories and maybe a few quilting tips.
Education:
The beautifully restored, historic Peters House will be full of ways to learn about the history of slavery in Connecticut and Hebron. Artwork, books, artifacts, stories and poems by students, and more will be on full display. You can talk with State Archeologist Sarah Sportman, and members of the Historic Properties Commission or Historical Society.
And you can take a Bus Tour of several sites in Hebron where Black Americans lived, worked and learned along with their neighbors in the community.
Special guests:
Perhaps the most special aspect of our Juneteenth Celebration is the personal connection with the descendants of formerly enslaved Hebron resident Cesar Peters. Zakiyyah Peters Hasan and Karleka Norman of the Peters family have helped plan the event and will join with other family members to put on a performance illustrating the history of Cesar Peters.
Children's activities:
There will be plenty to keep kids of all ages interested, engaged and happy. These include a scavenger hunt, face painting, arts and crafts, painting a Freedom Pole, and coloring a huge Juneteenth poster. And ice cream!
Vendors:
We are grateful that so many more Black-owned businesses are joining us this year – coming all the way out to our rural community! They are:
Bolokada and Friends Village Project
Balebe Beads
Bri's Cuisine
Ice Cream Dream
Kitty's Home Décor
Mariah Cubano
Mye Creative Space
Perfect Poundcakes
Sasha's Whole Earth Apothecary
Walk Worthy Brands
Zoju Foods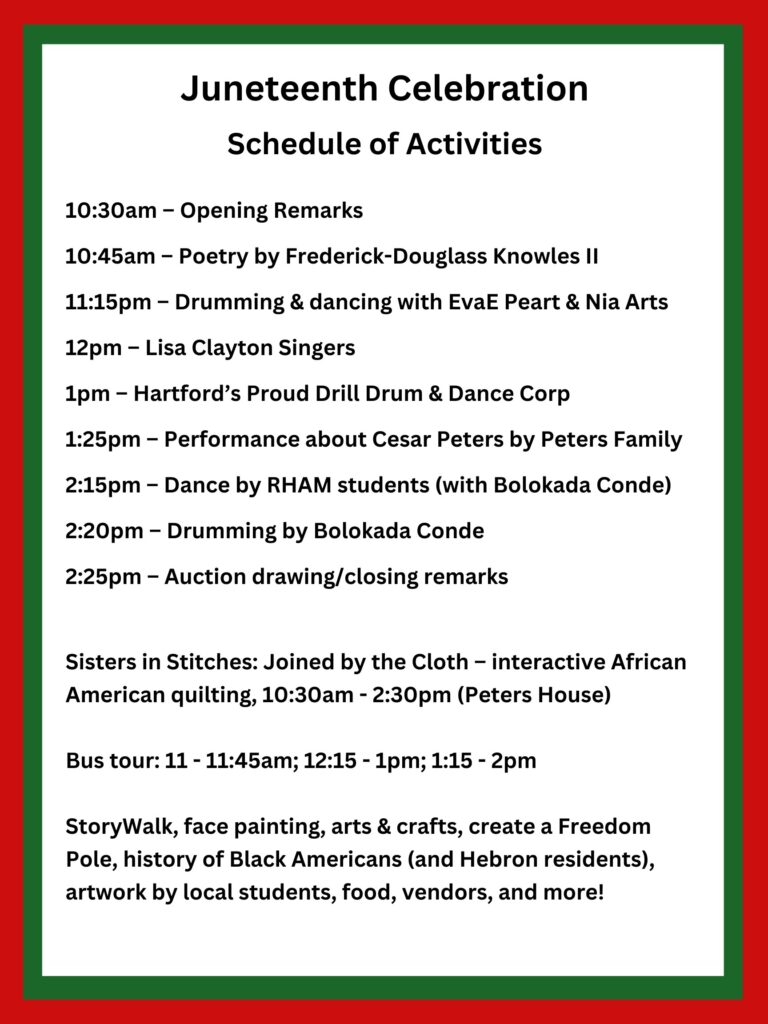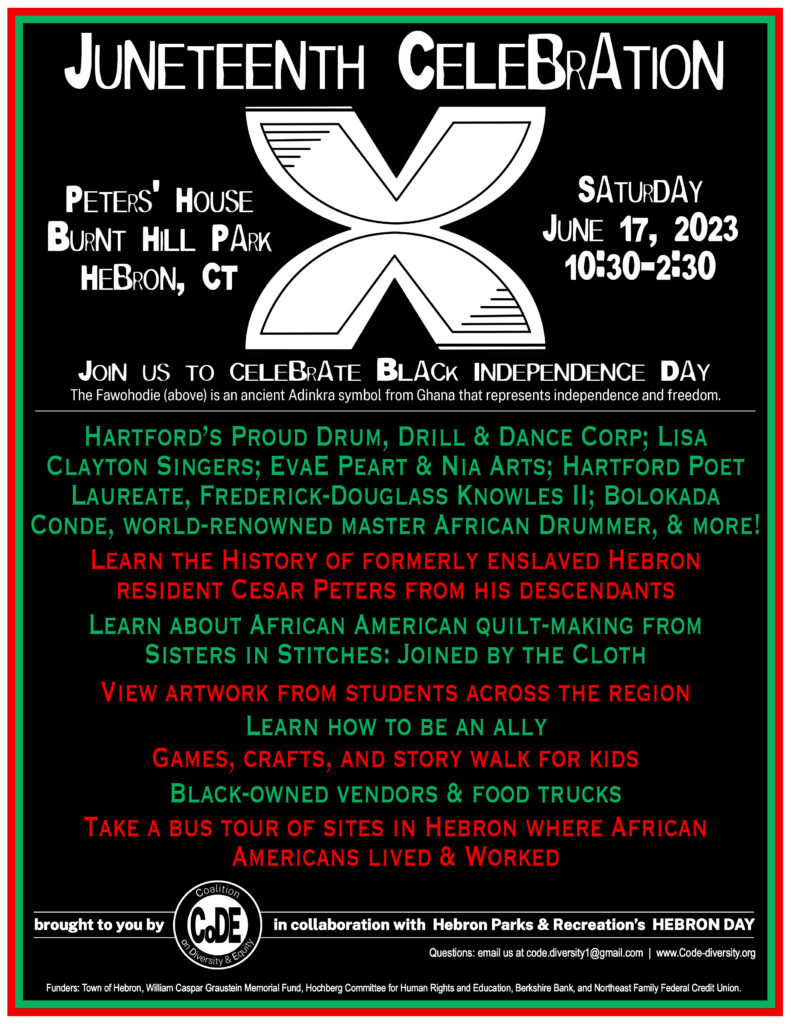 We are extremely grateful to our partners and funders for making this event possible!
Ally   
(donation of $1,000 or more)
Town of Hebron
William Caspar Graustein Memorial Fund
Champion    ($500 donation)
Berkshire Bank
Hochberg Committee for Holocaust and Human Rights Education
William Weaving
Star    ($300 donation)
CENTURY 21 AllPoints Realty Hebron
Ruth Gordon and Rhonda Kincaid
St. Peter's Episcopal Church
Supporter    (donation of $100 – 300)
Blackledge Country Club
Robert and Carol Gordon
Northeast Family Federal Credit Union
Steven and Beth Stillitano
Susan Gordon and Jim Moran
Amber Lea Kincaid and Paul Swedis
Tristan Kincaid and Maya Reti
Judy and Larry Preston
Hebron Travel
Nicole Lotko
Carla and Ryan Neville
Steve and Jennie Riegler
William Waugh
RHAM High School (in kind)
Gilead Congregational Church (in kind)